Our Musicians are among Chicagoland's best and are regulars. So-called "pick-up" musicians are never used.
Style ranges throughout the spectrum from the old "oompah" favorites to many of the newest stimmung medleys brought over directly from Munich. Some songs are originals, both in English and in German. Vocalists and instrumentalists are always featured.
For bookings, contact Jimmy at (630)543-7899.


Credentials:
· Association of Professional orchestra Leaders
· Chicago Federation of Musicians
· D.A.N.K. (German-American National Congress)
· Illinois Arts Council Arts tour
· Joliet Federation of musicians
· SPRA (Suburban Parks Recreation Association)
Performances: Illinois World Tour where the band appears 100 or more times during the course of a season.
· Festivals
· Conventions
· Weddings
· Corporate events
· Outdoor concerts
· Private parties
· Cruises
Chicago's Number One Oompah Band!




Check out the new CD from Jimmy's Bavarians with special guest
Johnny Frigo!



Jimmys Bavarians are: Jim Bestman, Rusty Jones, Annie Ondra, Wayne Roepke, and Don White.

Johnny Frigo is the world reknowned jazz violinist who has played with the likes of Frank Sinatra, Billie Holiday, Sarah Vaughn, Herb Ellis and many more.
This thrilling new CD presents wonderful variety of songs. The track list includes:


Chianti-Lied

Sailor (Your Home Is The Sea)

In einem kleinen Cafe in Hernals

Wenn die weisse Flieder wieder blüht

Die Klarinettenpfeiffer

Kann denn Liebe Sünde sein

I Wish You Love

I'll Be Yours

Wenn der Toni mit der Vroni

Das Jodellied aus Oberkrain

La vie en Rose

Praha je kràsnà

Innsbruck du wunderschöner Alpenstadt

My Heart Belongs to You

Wien, du Stadt meiner Träume

Poor Butterfly

Clarinet Polka




AVAILABLE ONLINE
Check out our CD "Jimmy's Bavarians Swingin' Chicago Style"! This CD shows the influences of Chicago's jazz community as it journeys through Chicago's Lincoln Avenue German community.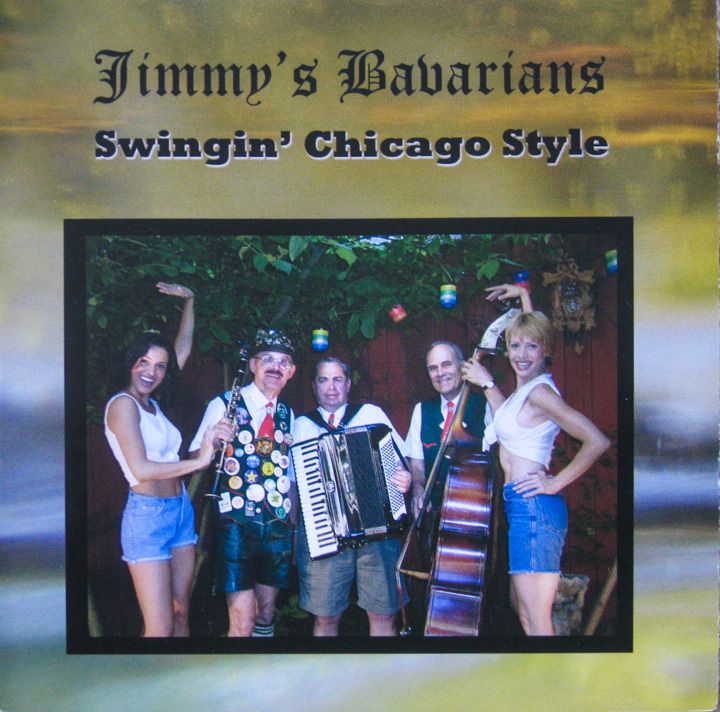 The track list includes:

Mein Vater ein Wandersmann

Immer an der Wand Lang

Du kannst nicht treu sein

Zillertaler Hochzeit Blues

Liechtensteiner Polka

Sieben Fasser Wein

Oh Susanna

Kufsteiner Lied

Die Dorfduddler

Logo Logo

Ich Fahr mit meine Liese

Steiermen san very good

In München steht ein Hofbräuhaus
AVAILABLE ONLINE
Oompah, Oktobefest, Munich, Wiese, Beer Garden, Celebrate, Festival, Sing-along --- whatever you prefer, check out "I Love that Oompah Music!"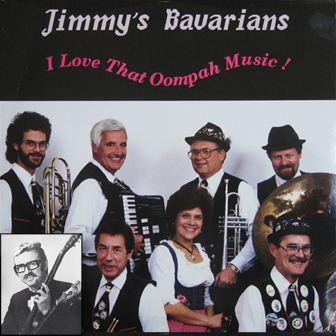 The track list includes:

Tiroler Holzhackerbuam

Schneewalzer

Rheinländer Potpourri: Die Holzauktion / Midsommarvaka

I Love That Umpa, Umpa, Umpa, Umpa, Music

Mein Hut Der Hat Drei Ecken Ländler

Jetzt Geht Zu Lindenau

Beer Here!

Ridin' Shotgun On a Beer Truck

Tief Im Böhmerwald

Wien Bleibt Wien

Schunkelwalzer Potpourri: Geh Ma Mal 'rüber / Solang Der Alte Peter / Schön Ist Die Jugend / O Du Wunderschöner Deutscher Rhein

Der Kreuzfidele Kupferschmied

Ein Prosit



AVAILABLE ONLINE

table>